PCL celebrates SickKids' topping off
Posted on September 16, 2022
The construction team working on the Patient Support Centre (PSC) at The Hospital for Sick Children in Toronto celebrated a significant milestone recently.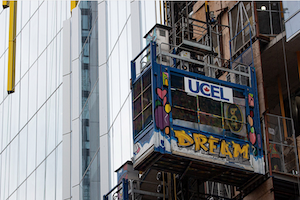 Earlier this week, the team led by PCL Constructors announced the topping-off of the new building.
"We are incredibly proud to be celebrating this monumental moment alongside SickKids, SickKids Foundation, our partners and the hundreds of tradespeople who have been integral in bringing this project to life," said Monique Buckberger, vice president and district manager of PCL Toronto. "Topping off the Patient Support Centre is much more than a construction milestone. It is a representation of each team member's personal connection to SickKids, as well as our shared passion and drive for delivering this impactful project for the community." 
The milestone brings the PSC project one step closer to completion.
When it opens, the PSC will be a modern, wellness-focused 22-storey education, training and administrative hub for more than 3,000 professionals, management and support staff. Supporting over 1,000 world-class trainees, students and learners annually, the PSC will house the SickKids Learning Institute and a simulation centre for hands-on teaching.
"We've been on this journey for many months now and are so excited to see the first phase of Project Horizon becoming a reality. Floor by floor, pane of glass by pane of glass, we are finally seeing the future of SickKids come to life. We're thrilled to take this next step to transform the campus and are excited to open the doors of this modern building to our staff, patients and families in 2023," said Peter Goldthorpe, vice president, transformation for The Hospital for Sick Children.
Prior to the structure's topping off, many significant changes have occurred on site, including the successful removal of the south tower crane and the start of the roof structure steel. This summer, the steel erection for the pedestrian bridge connecting the hospital's Atrium building to the PSC was completed.
Since the project broke ground in October 2019, the construction crews have used approximately 25,000 cubic metres of concrete and about 2,230 metric tonnes of rebar.
The PSC is the first in a series of projects that are part of SickKids' vision for Project Horizon, a broader campus development. The renewed SickKids campus will eventually include two new towers to provide acute care, core clinical services and outpatient services.
"Working alongside SickKids to create a forward-looking environment that is firmly rooted in its community and a distinct new addition to Toronto's urban fabric was an immensely rewarding experience," says Patrick Fejer, CEO at B+H Architects. "It was critical to SickKids that considerations for staff and learner wellness were integrated into every design decision from the outset. Too often in workplace design, these needs are put secondary, but with the new PSC, we want to demonstrate that when you prioritize the wellbeing of the end user, they are empowered to do their best work."