Tory makes transit a campaign focal point
Posted on September 22, 2022
John Tory is making transit a focal point of his re-election campaign.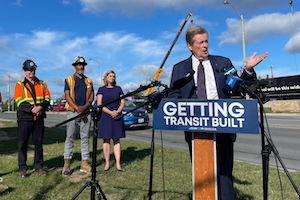 The Toronto mayor reaffirmed his commitment to the combined $28 billion worth of transit projects that are either planned or underway in the provincial capital on September 20.
"For many, many years, before I became mayor, Toronto built very little new transit capacity," said John Tory. "But under my leadership, we are getting on with getting transit built – in Scarborough, in Etobicoke, in the downtown, in East York, and in North York. One of the big reasons why I'm seeking a third term as mayor is to make sure the once-in-a-lifetime transit expansion gets done."
The four transit projects include: the Scarborough subway extension and the Ontario Line, both of which are now under construction, the Eglinton Crosstown West Extension towards Pearson Airport, and the Yonge North Extension.
Combined, they represent one of the largest transit expansion projects in North America in decades.
Under Tory's terms as mayor, the federal, provincial and local governments have invested in a series of other key transit expansion and construction projects, including:
the Crosstown LRT and Finch LRT, both of which will open soon,
planning for the Eglinton East and Waterfront transit lines,
creating the King Street Transit Priority Corridor to ensure more reliable and efficient streetcar service along the busiest surface transit route in the city,
implementing the SmartTrack program, with an agreement signed between all three levels of government and with Metrolinx now hiring builders for five new urban rapid transit stations,
increasing subway service on Line 1 and 2 during peak periods to support return to office plans, and
increasing investment on 17 bus and streetcar routes this year, and increasing service on 29 bus routes and two streetcar routes beginning in September as riders return to work.
Tory says he looks forward to continuing to work with the provincial and federal governments to deliver on these, and other projects.
Two construction unions are throwing their support to Tory's re-election campaign, including the Labourers International Union of North America and the Carpenters' District Council of Ontario.
"On behalf of over 70,000 LiUNA Members in the Greater Toronto Area, we look forward to continuing working collaboratively with John Tory on building and expanding Toronto's Transit network," said Joseph Mancinelli, LiUNA International Vice President and Regional Manager of Central and Eastern Canada. "With historic investments by all levels of government, we are building and expanding transformative transit infrastructure that will strengthen the future of the city, support prosperity and build vibrant, inclusive communities."