STO celebrates first anniversary
Posted on January 24, 2023
Skilled Trades Ontario (STO) celebrated its one-year anniversary earlier this month by training and curriculum standards in three trades, and promising more to come.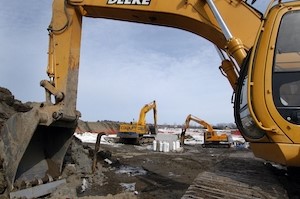 The changes announced by STO on January 19 are for the horticultural technician, arborist and utility arborist trades. The changes include a revision of the horticultural technician on-the-job training standard to align with the Red Seal Occupational Standard and a structural refresh of the arborist and utility arborist curriculum content for better cohesion, giving apprentices additional time to learn theoretical content.
The organization has also announced that changes to the program standards of the three heavy equipment operator trades – tractor loader backhoe, excavator and dozer – will also be forthcoming this year, to further align with provincial and territorial Red Seal Standards.
"As a leading educational facility in the trades, we know skilled trades provide fulfilling, well-paying and in-demand career paths that are essential to almost every part of our daily lives and critical for the future of our communities," said Dr. Craig Stephenson, President and CEO of Centennial College. "The recently updated training and curriculum standards will undoubtedly strengthen students' skills, enhance their employment options and ultimately set them up for even greater success."
STO's mandate is to increase labour mobility and improving training standards for apprentices and skilled trades workers. Since the organization launched last year, apprenticeship registrations increased by thousands in 2022 compared to 2021 and more than 13,000 students, parents, and teachers attended skilled trades career fairs aimed at attracting the province's next generation of tradespeople.
"We've made great strides in our first year, and this is only the beginning," said Melissa Young, CEO/Registrar, Skilled Trades Ontario. "From updating standards to moving more services online, Skilled Trades Ontario is removing barriers and setting apprentices, employers and skilled trades professionals on the path to success."
STO is also releasing a one-window digital portal for apprentices to apply online, keep track of their training progress, pay fees and more, and introducing a digital logbook pilot that allows new apprentices to now track their training progress completely online
The organization also plans to release its strategic plan this spring, outlining its priorities for the next three years.