Thunder Bay Art Gallery selects construction manager
Posted on January 25, 2023
The Thunder Bay Art Gallery has selected Tom Jones Corporation to act as the construction manager for its new waterfront art gallery.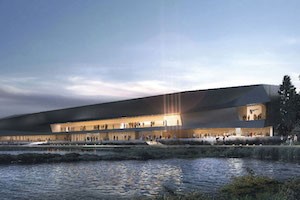 "We are delighted to announce our construction manager and look forward to working with Tom Jones Corporation to realize this noteworthy community project," said Board Chair Christine Bates. "The opportunity to work with an experienced and committed local contractor to build the new community art gallery is an important step toward the achievement of this major project."
Plans for the new gallery building on Thunder Bay's waterfront were launched in 2009, and began in earnest in 2012. The project's opening date was originally planned for 2019, but extensive environmental investigations were required – and have taken place – on the waterfront site.
The project is now proceeding with a planned opening in 2025. Construction work is expected to start shortly, with site and foundation work scheduled for this winter.
The new art gallery will replace the existing facility located on the campus of Confederation College which has been providing visual arts exhibitions and programming for the past 46 years.
More than double the size, the waterfront gallery features expansive exhibition spaces and increased education and programming areas, and a larger collections storage vault to accommodate the Gallery's growing collection of Indigenous and northwestern Ontario art. A larger gift shop, a café with an outdoor terrace and spaces for community use and rental will generate revenue toward operating expenses.
"We are honoured to have been selected and to be working with the Art Gallery to contribute to the changing face of Thunder Bay and the community gathering place that is Thunder Bay's waterfront," said Parker Jones, President, Tom Jones Corporation. "We look forward to this exciting collaboration to help the art gallery achieve its vision, which will contribute significantly to our community's cultural life, and economy and serve as a beacon of creativity and inspiration for all who visit."
The new gallery will be one of few buildings in the City to date built to net zero standards and will align with the City of Thunder Bay's Net Zero Strategy.
Funding for the project, which has a construction budget of $38 million, has been provided by all levels of government and the community.
A commitment of $5.7 million from the City of Thunder Bay has been supported by commitments of more than $40 million from the federal and provincial governments.