Algoma Steel hires EllisDon as construction manager for electric arc furnace project
Posted on March 15, 2023
Algoma Steel has selected EllisDon to act as construction manager for completion of its transformative electric arc furnace (EAF) project.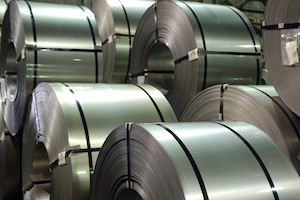 Work on the structural building component of the project, which began last April, is currently being performed by Hamilton's Walters Group Inc.
The company is fabricating and erecting the main building structure in addition to the necessary dust collection hoods. It will also use Algoma's steel plate products in the fabrication of the heavy structural components, and will work with local industrial contractor, SIS Manufacturing Inc., to fabricate those elements.
Onsite assembly should be finished within the year, with the construction team announcing last month that it had installed the first structural steel columns at the facility.
EllisDon's role going forward will be to manage more complex phases of construction, says Algoma CEO Michael Garcia.
"Our transformative electric arc furnace project continues to advance on time and on budget, and we continue to expect a successful EAF start-up in mid-2024."
EllisDon brings over 70 years of industrial and civil construction management expertise and experience to the project bolstering Algoma's internal project team as Algoma's EAF facility continues to progress.
"We are very proud to join Algoma's team in one of Canada's largest electrification projects targeting reduced carbon emissions," said President and CEO Geoff Smith. "We are excited to bring our broad experience, a spirit of profound openness and a determination to help Algoma achieve all of its objectives. This is a partnership with Algoma, and a partnership with the environment, and we are very excited to be a part of it."
Construction of the large, $700-million complex started last fall. Algoma awarded the contract for the electric arc furnace technology to Italy's Danieli. The two 250-ton electric furnaces will provide capacity to produce 3.7 million tons of liquid steel every year.
Once the project is completed, Algoma's mill will be one of the lowest-cost green-steel production facilities in North America, expanding its annual steelmaking capacity with an estimated reduction of approximately 70% in carbon emissions.