Building construction investment up slightly in January
Posted on March 15, 2023
Building construction investment grew by 1.5% to $20.4 billion in January, as all components of the residential and non-residential sectors posted gains.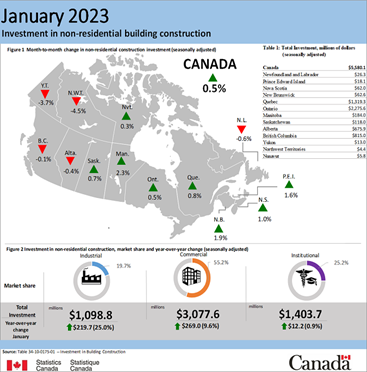 Investment in residential building construction increased by 1.9% to $14.9 billion after posting four consecutive monthly declines at the end of 2022.
Single-family home investment was up 2.4% to $8.0 billion. Ontario accounted for much of the gain with its largest increase since December 2021.
Multi-unit construction increased 1.3% to $6.8 billion, mostly driven by Ontario (+5.2%). On the other hand, Quebec continued to contract, with its eighth consecutive decline since reaching its peak in May 2022.
Investment in non-residential construction continued to climb, up 0.5% to $5.6 billion in January.
Industrial construction investment rose 1.1% to $1.1 billion and was up 25.0% year over year. This was the 14th consecutive monthly increase in this component.
Commercial construction investment edged up 0.1% to $3.1 billion. Manitoba continued to climb for the fifth consecutive month, approaching pre-COVID-19 pandemic levels of investment in this component.
Institutional construction investment was up 0.7% to $1.4 billion. Overall, eight provinces reported gains, with New Brunswick posting its eighth consecutive monthly increase. Newfoundland and Labrador posted its 15th consecutive monthly drop.