Ontario to require technological education course for high school graduation
Posted on March 13, 2023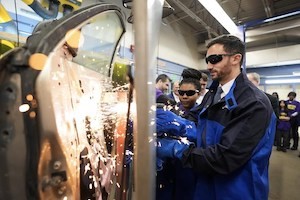 MISSISSAUGA, Ont. — Ontario high school students will soon be required to pass a technological education course to graduate.
Education Minister Stephen Lecce announced on Friday that the requirement will start with students who enter Grade 9 in September 2024.
Students will have to complete a Grade 9 or 10 technological education course, covering sectors such as construction, transportation, manufacturing, computer technology, hospitality and communication.
The government is framing the move as a way to get more young people into the skilled trades, particularly young women.
Ontario says that about three-quarters of high school students already graduate with at least one technological education course, but the majority are male students.
Charmaine Williams, the associate minister of women's social and economic opportunity, says that for Ontario to succeed, the province needs more women and girls pursuing skilled trades careers. 
(C) The Canadian Press