Volkswagen to build EV battery plant in Ontario
Posted on March 14, 2023
TORONTO — Volkswagen is building an electric vehicle battery plant in southwestern Ontario, the carmaker said Monday, an announcement heralded by the province's economic development minister as an illustration of Canada's rapid reversal of fortunes in the growing sector.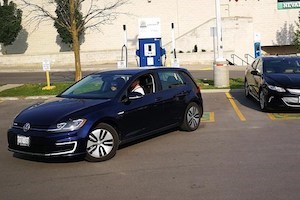 The European automaker announced that the Volkswagen Group and its battery company PowerCo will establish its first overseas "gigafactory" for battery cell manufacturing in St. Thomas, Ont., with the start of production planned for 2027.
The company said Canada offers ideal conditions, including a local supply of raw materials and wide access to clean electricity.
"Canada and Ontario are perfect partners for scaling up our battery business and green economy jobs, as we share the same values of sustainability, responsibility and co-operation," Thomas Schmall, chairman of the supervisory board of PowerCo SE said in a statement.
"We are committed to be a reliable partner and good neighbor for the people in St. Thomas and Ontario."
Ontario Economic Development Minister Vic Fedeli said Canada has gone from being behind the pack in the electric vehicle manufacturing sector to being one of the top players in the battery supply chain remarkably quickly.
"(It) is a stunning move, and I think acknowledged by Volkswagen that they felt they would want to be in the middle of this whole electric battery ecosystem that we've created in Ontario," Fedeli said in an interview.
This will be the second electric vehicle battery factory in Ontario. Last year, automaker Stellantis and South Korean battery-maker LG Energy solution are building a facility in Windsor, Ont., with a $5-billion price tag.
Numbers such as the money being invested and jobs being created will be disclosed at a future announcement with Volkswagen representatives, Fedeli said.
Since 2020, Canada and Ontario have attracted more than $17 billion in investments in the quickly growing field.
Fedeli and federal Industry Minister Francois-Philippe Champagne said in a joint statement that the announcement is a "major vote of confidence" in Canada and Ontario being global leaders in the EV supply chain.
"With a highly skilled workforce, clean energy, an abundance of critical minerals, access to markets, and a flourishing automotive and battery sector, we are an attractive investment destination with everything companies need to grow," the ministers wrote.
"This investment is another significant step forward as we build a clean transportation sector to meet global and North American demand for zero-emission vehicles."
The company signed an agreement last year with the federal government to work to identify suitable sites for such a facility in Canada, and they had also committed to investigate ways for Canada to contribute to Volkswagen's battery supply chains, including raw materials and assembly.
Ontario set the stage last month for the Volkswagen announcement, introducing and quickly passing a law adjusting the municipal boundaries for a 1,500-acre "mega site" in southwestern Ontario.
Fedeli said at the time that the site straddled St. Thomas and Central Elgin, and putting the entire piece of land within St. Thomas would eliminate the red tape and barriers that could come with future companies having to deal with two municipalities.
Flavio Volpe, president of the Automotive Parts Manufacturers' Association, credited Monday's announcement to hard work by both levels of government.
"Canada now boasts major investments in electric vehicle manufacturing from six of the world's top seven automakers," he said in an interview.
"For a country without its own domestic brands, it is unprecedented and speaks to the globally competitive value proposition of investing billions here."
(C) The Canadian Press