Enwave breaks ground on Toronto green heat facility
Posted on May 15, 2023
Enwave Energy Corporation has broken ground on construction of a low-carbon heating facility at its Pearl Street Energy Centre in downtown Toronto.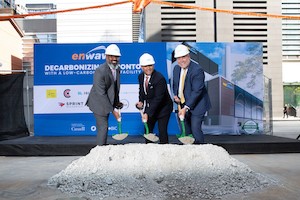 Once complete, the facility will enable the company to provide low-carbon heat into Toronto's district energy grid.
When fully utilized, Enwave says its low-carbon heating facility will provide enough low-carbon heating to reduce emissions in Toronto by approximately 11,600 tCO2e, which is the equivalent of converting over 10 million square feet of office space to net zero.
The facility will recycle district waste heat to produce hot water via electrification using dual-use heat pumps, electric feeds, and generators.
Enwave calls the facility, "a game changer for buildings that are targeting to reach the highest level of Toronto Green Standards as well as Zero Carbon Building certifications from the Canadian Green Building Council."
"The addition of a low carbon heating facility to our Pearl Street Energy Centre is a significant milestone for us and Toronto's district energy grid, because it allows us to provide decarbonization at scale," said Enwave CEO Carlyle Coutinho. "Adding this state-of the-art heat pump facility to provide green heat demonstrates our commitment to this city and province, the development community, and our stakeholders."
The company says engaging with Toronto's downtown landscape was critical for the design of the new three-storey low-carbon heating facility. At street level, bold graphics and educational displays will articulate Enwave's vision for efficient, affordable low-carbon energy delivery, and their commitment to net zero. There will also be select glazed areas of the building to display the latest equipment at work.
In addition to the new facility, Enwave will update its existing 60-year-old building at 120 Pearl Street with a complete recladding of the façade, using modern materials such as black metal, aluminum, and windows with a frittered glass pattern.
"Buildings in Toronto generate more than half of our city's greenhouse gas emissions," said Toronto Deputy Mayor Jennifer McKelvie. "New technologies, like Enwave's expanded heat delivery system, will play a critical role in the reduction of our cumulative carbon footprint. The City of Toronto is proud to partner with Enwave to help fulfill our TransformTO Net Zero Strategy and reach net zero by 2040."
The Pearl Street Energy Centre expansion and renewal project is supported financially by a grant from Canada's Low Carbon Economy Fund, Champions Stream and a $600-million loan from the Canada Infrastructure Bank.
The facility is anticipated to be completed and in service by late 2024.