Pomerleau on track to deliver Passive House residence for UTSC
Posted on May 25, 2023
Pomerleau has announced that work on a new residence building at the University of Toronto Scarborough (UTSC) is on track for the completion this summer.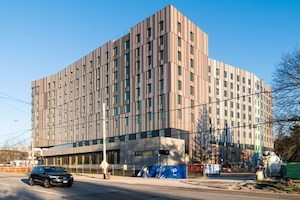 The Scarborough Campus Student Residence building, which has been under construction since July 2020, is being built to the Passive House standard. Doing so, the contractor says, will make it one of the country's most energy-efficient buildings.
The building features many low-energy design elements including high-efficiency insulation and windows as well as building systems that reduce energy consumption by between 40 and 60 percent compared to conventional buildings.  
In addition, the building will double the residence capacity at the UTSC campus, adding 746 beds across 24,620 square metres. With the needs of first-year students in mind, the building also includes an energy efficient cafeteria, a common area for learning workshops, suites for visiting scholars, a dining room, administrative offices, and several mixed-used spaces. A rooftop garden and terrace are also planned for future development.
"There are so many interesting elements to this building," said Michael Faustini, project drector, Pomerleau. "The mechanical system is designed to recuperate heat and energy. We have a pit in the basement that captures all the hot water from showers and uses it as a heat source, and the heat from the commercial kitchen in the cafeteria is also captured and reused. The construction of the building envelope had to be so perfect and detail-oriented that an on-site mock-up was built to ensure the process was clear to all parties prior to final installation."
"We needed to build a new student residence, and whenever we do new projects on campus, we're always looking for innovative ways to incorporate sustainability," said UTSC chief administrative officer Andrew Arifuzzaman. "The Passive House standard represents an optimal way to build healthy, climate-resilient, affordable, and energy-efficient buildings through all stages of design, construction and livability."
The University of Toronto expects that this project will set a model for future works. Working with Pomerleau and the university, an entire network of designers, contractors and subtrades has developed hands-on experience working on a Passive House project.
Pomerleau, meanwhile, is working on four active contracts with U of T, including a 14-storey educational facility above the existing Goldring Centre for High Performance Sport. The building is expected to be among the tallest timber and steel hybrid buildings in North America. The erection of the timber structure is expected to start later this year.