Conestoga College to open esports arena
Posted on November 20, 2023
Conestoga College has announced plans to open an esports arena at its Waterloo campus in an effort to support the rapidly growing competitive gaming industry.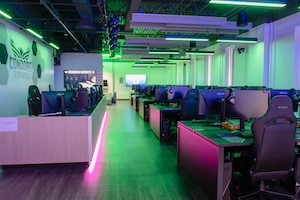 The 10,000-square-foot facility will become home to the college's School of Applied Computer Science & Information Technology. The space will allow for high-performance play, high-quality streaming and production, and innovation in gaming and simulation with top-tier gaming PCs, a premier console station, immersive virtual reality and simulation stations, a full production suite, premier competitive stage, and athletic team operations room. 
"The future state-of-the-art esports arena will provide opportunities for Conestoga students to play and learn using the latest and greatest technology," said Trish Weigel-Green, vice-president, Students. "We are proud to invest in emerging fields of study, enabling students to gain invaluable experiences as they embark on their future careers. The esports arena is further evidence of Conestoga's commitment to innovation while also demonstrating our ability to create positive and meaningful student experiences to benefit our community."
Last year, Conestoga opened a dedicated hub at its Waterloo campus to support the college's growing esports ecosystem. The first of its kind in the region, the space hosts weekly programming, events, and open lab time to students, while also providing access to hands-on learning for students in Conestoga's recently launched Esports Marketing and Event Management graduate certificate program.
The gaming industry contributed more than $5.5 billion to the Canadian economy in 2021. According to the Government of Ontario, more than 55,000 full-time jobs in Canada, including roles for computer scientists, software engineers and developers, data scientists, and marketing professionals, directly supported the gaming industry in that same year, with Ontario being home to close to 300 video game companies - the greatest for any region in the country.
Designed by Populous, the esports arena is expected to open in spring 2025.