Feds commit $430M to 1,100 rental units in Ottawa
Posted on November 15, 2023
The federal government has announced an investment of more than $430 million to build more than 1,100 rental units in Ottawa.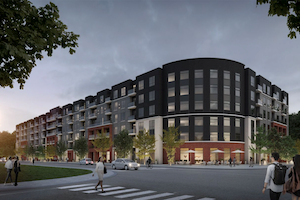 The funding will come as fully repayable low-interest loans through the Rental Construction Financing Initiative (RCFi) and will be used to support six projects.
One, located at 180 Kanata Avenue, is a six-storey mixed-use building containing 306 residential units as well as a coffee shop, a restaurant, and a gym. The building will have a rooftop terrace that overlooks the rear yard, a community garden and solar panels. Kanata Woods, expected to be complete by the winter of 2024, received $127 million through RCFi.
Funding details for the other five projects include:
$105 million for 270 units at 1040 Somerset Street,
$96.6 million for 267 units at 2140 Baseline Road,
$ 2.4 million for 10 units at 284 Presland Road,
$39 million for 114 units at 488-500 Bank Street, and
$60 million for 148 units at 30 rue Jos-Montferrand in Gatineau.
"We are committed to working with all communities to meet the challenge of building more rental housing in Ottawa and across the country," said Kanata—Carleton MP Jenna Sudds. "Initiatives like the RCFi are helping to increase the supply of new rental units and are helping more Canadians find a home that is safe and meets their needs. By investing over $430 million to build a total of over 1,000 units across Ottawa and its region, we are ensuring sure middle-income individuals and families have the housing they need to thrive."
The construction of rental homes has not kept pace with the country's growing cities and population, leading to a decline in the existing and aging rental stock for decades. The federal government introduced the RCFi to help build more rentals across the country.
The initiative provides fully repayable low-interest loans to encourage the construction of more purpose-built rental housing. Through RCFi, the federal government aims to spur the construction of more than 71,000 rental units.