Parkland strikes electric vehicle station funding deal with Infrastructure Bank
Posted on November 20, 2023
The Canadian Press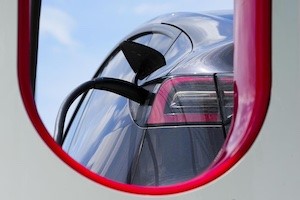 TORONTO — More electric vehicle charging stations are on the way as the Canada Infrastructure Bank says it has signed a second funding deal to expand fast-charging options.
The federal Crown corporation says it will provide up to $210 million in loans to help Parkland Corp. expand its charging network by upwards of 2,000 fast-charging ports at as many as 400 sites. 
It's CIB's second major funding announcement for charging stations, after it provided a $220 million loan in April to Flo Inc. to help it build more than 2,000 fast-charging ports across Canada by 2027.
The charging investments come as the federal government works towards a mandate of full electric vehicle sales by 2035 to reduce road transportation emissions, which make up about 18 per cent of Canada's total greenhouse gas emissions.
Ehren Cory, chief executive of the CIB, says the funding will speed up the rollout of fast chargers.
He says companies are already expanding charging options, but it's important that the pace increase.
"The challenge is that if we are going to drive accelerated, widespread EV adoption, we need to reduce range anxiety by getting more high speed chargers deployed faster," said Cory.
"The whole goal here is rapid deployment."
The funding comes from the CIB's charging and hydrogen refuelling infrastructure initiative that has a $500 million funding target, but Cory said he hopes to exceed that amount.
Darren Smart, senior vice-president of energy transition at Parkland, said in a statement that the company's initial investments in electric vehicle charging have been positive with strong customer interest.  
(C) The Canadian Press