Sudbury report suggests overnight road construction costs more, is less productive than daytime work
Posted on November 15, 2023
A report from city staff shines a light on the effectiveness – and the cost – of performing night-time road construction work in Sudbury.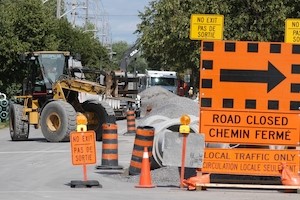 The report, which was prepared for the city's Operations Committee by David Shelsted, the Director of Engineering Services, finds that while there are a number of benefits to performing some construction work during overnight hours, there also drawbacks, including significant extra costs.
"During any given construction season, the city receives a number of calls to 311 from the travelling public regarding traffic delays due to road construction," says the report. "Conducting road work at night has been suggested as one way to better manage this problem. Night work is conducted regularly throughout Canada, the province and to date, has been completed on select projects within the city to minimize potential negative impacts on residents and businesses."
The city says it considers six factors when evaluating whether to allow night-time construction work. These include operational constraints, traffic impacts, safety, quality and productivity, construction cost, and nuisances, and each has advantages and drawbacks.
For example, it says overnight construction work can usually avoid or reduce traffic congestion, but only on projects without excavations and where the equipment can be easily moved off the road to open the travel lanes during the day, such as asphalt resurfacing, patching, crack sealing, watermain lining and surface treatment.
Safety is another issue the city considers when it comes to night-time road work.
Even during the day, road construction on active roadways poses unique safety risks compared to other types of construction. Work at night also presents challenges with ensuring the crew remain safe. For example, workers operate in decreased visibility conditions, and shadows cast by equipment and glare from vehicles and lights around the work area can be problematic.
The city also says it has heard concerns over worker attention levels suffering because of new sleep schedules, and because of reduced social and family interactions.
The report cited a night-time pilot project that was conducted on a section of the Trans-Canada Highway in St John's, Newfoundland in 2018. Some of the feedback collected by the project and the contractor included concerns over not being able to equip heavy machines with proper lighting for working in the dark, issues over operating those machines at higher rates of speed than usual, drivers displaying behaviour suggesting they were driving under the influence of drugs or alcohol, higher rates of worker turnover, and workers missing or skipping rest periods during the day to deal with personal or family matters, which resulted in more fatigue during the night.
Worker productivity is also a concern, the report found. It pointed to a number of factors that lower productivity, including: fewer support staff available to inspect work and perform quality assurance testing, reduced ability to coordinate with utility companies to mark locates, a greater rise of utility strikes and potential disruptions due to reduced visibility, and weather conditions in the early spring and fall affecting contractors' night-time ability to lay asphalt.
Equally, the report says night work can have a negative impact on the city's own ability to execute some of its projects during the daytime, due to a reduced pool of resources being available.
The other big issue for the city is the cost association with night-time work, which can be between 30% and 40% higher than daytime work. Those extra costs can come from the need for additional equipment and traffic control such as lighting, shift premiums, costs to supply time-sensitive materials such as concrete, granular material and asphalt, the ability to provide parts or equipment for repairs on short notice, and fewer bidders on the project tender.
"While night work certainly provides benefits for residents and the business community through minimized disruptions to service delivery and traffic flow, these benefits come at a significant cost," says the report. "Factors outlined within this report should be considered when determining whether to use night work as a tool to deliver a capital project efficiently."
The city says it is, and will continue to be, selective in where and how it implements night work for capital construction projects to ensure its focus is always on ensuring disruptions while balancing the need to be fiscally responsible.