Ontario's small modular reactors could create as much as $15B in GDP growth, Conference Board report finds
Posted on October 23, 2023
New research by the Conference Board of Canada suggests that the construction of four small modular reactors (SMRs) at Ontario Power Generation's Darlington Nuclear site could boost Canada's GDP by more than $15 billion over the next 65 years.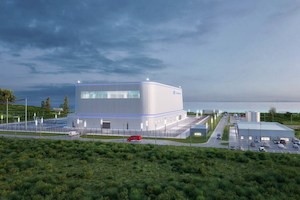 The report estimates that building and operating a fleet of four SMRs will contribute approximately $15.3 billion to Canada's GDP, including $13.7 billion to Ontario's GDP. It will create and sustain 2,000 jobs each year in Canada over the next 65 years.
The project will also generate $4.9 billion in tax revenues to municipal, provincial and federal governments over 65 years, which includes plant construction and operations.
Moreover, most of that economic growth is projected to reside in Ontario, with an estimated 89% of the growth earmarked for the province.
"Being the first North American mover of this innovative technology positions Ontario as a world leader in nuclear and a welcoming destination for new business," said OPG President and CEO Ken Hartwick. "Our plan to construct four new reactors at Darlington will also generate opportunities across Ontario and Canada as suppliers of nuclear components and services have an opportunity to expand to serve the growing SMR market here and abroad."
Building on plans to build the first SMR at the Darlington site, Ontario Minister of Energy Todd Smith asked OPG in July to start the process for planning and licensing three additional SMRs at the site.
OPG and its project partners will complete construction of the first unit in 2028, and it will begin producing power to Ontario's grid in 2029. The remainder of the reactors are expected to come online in the mid-2030s.
Once deployed, the four units will produce a total 1,200 megawatts of electricity, equivalent to powering 1.2 million homes.
"Our government's open for business approach has led to unprecedented investments across the province – from electric vehicles and battery manufacturing to critical minerals to green steel," said Todd Smith, Minister of Energy. "This report demonstrates how Ontario's SMR program will create thousands more highly skilled, good paying jobs while ensuring we have the reliable, affordable and clean electricity we need to power the next major international investment, the new homes we are building and industries as they grow and electrify."