Kontrol selected for emissions and air-quality monitoring role on Ontario rail project
Posted on September 12, 2023
Sustainability consultant Kontrol Technologies Corp. has been selected to provide emissions and air-quality monitoring services for the expansion of an unidentified rail infrastructure project in Ontario.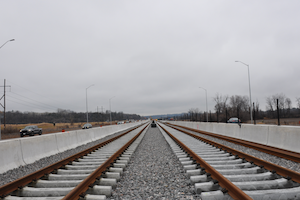 "This is our second major rail infrastructure win, and we are pleased to have been selected for this multi-year project," says Paul Ghezzi, CEO of Kontrol Technologies. "Our real-time monitoring provides important insights and analytics to support the expansion of rail infrastructure with high transparency for impact on local air quality."
Continuously operating industrial facilities and infrastructure projects that deliver high levels of constant emissions are often required to install a permanent, fixed, continuous emissions monitoring system. These systems must be able to identify correct ranges, response times and accuracy of measurement as well as have a reliable uptime and operation life so that the plant can continue to run.
Kontrol will install a customized emission and air quality solution as well as providing real-time monitoring over two years for a new rail infrastructure project. For competitive reasons, the company did not disclose which project it would work on.
"As part of our ongoing focus on organic growth and expanding our high margin business we will continue to target large, new infrastructure opportunities where our solutions can drive recurring revenues," said Ghezzi.