Lactalis Canada announces plans for Oshawa distribution centre
Posted on September 21, 2023
Dairy giant Lactalis Canada recently announced plans to build a new distribution centre in Oshawa.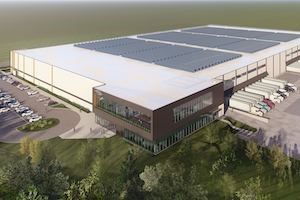 Set to open in Q4 2024, the 379,000-square foot centre will consolidate multiple shipping locations used to service the company's cheese and tablespreads product lines, including its distribution centre in Belleville. The locations will be combined into a central facility to enable the company's long-term growth, and increase capacity and efficiency.
The building will be located at 1680 Thornton Road North in Oshawa's Northwood Business Park. Once complete, it will have the capacity to store up to 60,000 pallets in both cooler and freezer environments.
The building has also been designed to be zero-carbon ready with the potential to be Zero Carbon Building certified. It will draw energy exclusively from the province's power grid, and use energy-efficient lighting controls, and high-insulation values to reduce its power load.
Additionally, heat generated from the refrigeration system will be fully reclaimed and used to heat the facility's offices and the truck apron to melt snow. The company also plans to install rooftop solar panels in later phase of construction to partially or completely offset reliance on the power grid under certain conditions.
"Lactalis Canada's new facility in Oshawa will become the largest distribution centre, from a capacity standpoint, for Lactalis Group globally," said Mark Taylor, President & CEO, Lactalis Canada. "This bold step exemplifies Lactalis Canada's growth ambitions in Canada as a dairy leader and more importantly, reinforces our continued commitment and investment in the country and communities in which we operate."
The facility was designed by GKC Architecture and Design. It will be developed, built, and leased by Broccolini, with construction beginning immediately.
"Broccolini is proud to partner with Lactalis Canada on this significant new facility," said Michael Broccolini, Chief Investment Officer, Broccolini. "For nearly 75 years, we have been building relationships with some of the world's most recognizable brands and this partnership is yet another example of how we can work together to achieve great things."
The facility will create approximately 80 jobs in Oshawa and the surrounding region and will join Lactalis Canada's workforce of more than 4,200 employees across 30 operating sites in Canada.