Tight construction labour markets persist in August as labour force growth modestly outpaces employment gains
Posted on September 20, 2023
The latest Labour Force Survey (LFS) data from Statistics Canada finds that all-industry, seasonally adjusted employment continued a moderate upward growth trend that began at the start of this year.
After contracting slightly in July, employment increased by 40,000 (0.2%) in August. Since January, employment has increased by 174,000 (+0.9%) – or by 25,000 on average per month. The LFS data also shows that August's increase in employment was outpaced by population growth (+103,000; +0.3%). As a result, the national, all-industry employment rate, which is the proportion of the population aged 15 and older who are employed, fell 0.1 percentage points to 61.9%.
Canada's overall unemployment rate was unchanged at 5.5%. This follows consecutive increases in May, June, and July.
Construction reports slight year-over-year labour force, employment increases
Construction's labour force, meanwhile, reported growth of 9,000 (+0.5%) over the last 12 months to reach 1,654,200 workers. Employment added 6,400 (+0.4%) over the same period. As a result, the industry's unemployment rate edged up slightly from 3.3% to 3.4%.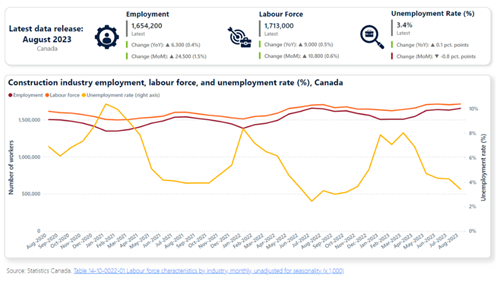 For comparison, the overall goods-producing sector of the economy, of which construction is a subset, reported an increase in employment of 24,200 (0.6%) across the past 12 months. Its labour force increased by 25,200 (0.6%), and its unemployment rate remained unchanged at 3.3%.
For the month of August, all of the construction employment gains recorded in the past 12 months have been concentrated among males. The number of men employed in the industry grew by 10,200, while the number of women, which had been increasing at key points over this summer, declined by 4,000. 
Across the provinces, year-over-year employment changes were greatest in Quebec (15,900; +5.1%) and Alberta (12,300; +4.9%), while contractions were largest in British Columbia (-33,400; -13.2%) and Nova Scotia (-6,500; -14%).
Labour-force trends followed a similar pattern, with British Columbia (-33,800; -13%), Nova Scotia (-7,200; -14.9%), and Saskatchewan (-2,400; -4.6%) reporting year-over-year contractions. At 15,300 (+2.4%), Ontario reported the largest labour force gain over the past 12 months, with Alberta (12,800; +4.9%) and Quebec (10,500; +3.2%) also reporting notable increases.
As discussed in our August blog post, the declines in British Columbia, although significant, are expected to be short lived, and are likely driven by the pending completion of several major projects. Labour force and employment declines in Nova Scotia should also be viewed more as a pause, rather than a decline in demand. The volume of projects slated for construction in these provinces remains elevated. 
On a month-over-month basis, British Columbia was the only province to report contractions in both employment (-900; -0.4%) and its labour force (-9,300; -4.0%). All other provinces reported employment gains for the month, with Quebec (+7,000; 2.2%) and Ontario (+6,900; 1.1%) leading the way.
Changes in unemployment rates were mixed – and modest – across all provinces. Rate changes varied from -1.7 percentage points in Quebec to +2.2 in Prince Edward Island.
Unemployment rates for August 2023 ranged from a low of 1.9% in Quebec to a high of 11.6% in Newfoundland and Labrador. Most other provinces reported rates of between 2.6% and 4.1%.
This article was written by Klayton Gonçalves, Senior Economist and Head of Business Intelligence for BuildForce Canada. It first appeared on the organization's Labour Market Corner blog, and we reprint it here with permission.