Wataynikaneyap Power energizes North Caribou Lake First Nation
Posted on September 18, 2023
Another Northern Ontario community is celebrating its connection to the province's clean electricity grid.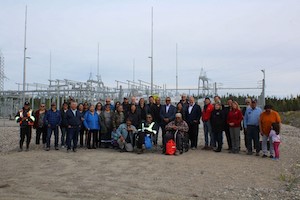 On September 14, the Ontario government announced the energization of the First Nation-led Wataynikaneyap Power Transmission Project. The milestone officially brings the community of North Caribou Lake First Nation onto the power grid, and ends its reliance on diesel generation.
North Caribou Lake First Nation is located 320 kilometres north of Sioux Lookout. It has an on-reserve population of 919 people, and a total population of 1,238.
Earlier this summer, Bearskin Lake First Nation also celebrated its connection to the provincial grid.
"Congratulations to Wataynikaneyap Power and North Caribou Lake First Nation on this extraordinary achievement in bringing reliable, clean and affordable electricity to the community," said Energy Minister Todd Smith. "Our government is proud to support this First Nation-led project that is connecting communities to Ontario's clean grid, unlocking new opportunities for community development."
The province is supporting the construction of the Wataynikaneyap Power Transmission Project through a loan of up to $1.34 billion for construction costs.
"Grid connection has been a long time coming. Diesel generation was unsafe, unreliable, and inadequate to meet the needs of the growing community," said North Caribou Lake First Nation chief Cornelius Benson. Since connection, we have been able to connect a new school, police station, a number of housing and trailer units and many building upgrades."
Once completed, the project will connect more than 18,000 people living in 16 remote First Nations across northwestern Ontario with a reliable, affordable supply of electricity – the largest and most far-reaching First Nation grid connection project in Ontario's history.
The project achieved its first major milestone in August 2022 with the completion and energization of a 230kV segment known as the Line to Pickle Lake. About 300 kilometres in length, the line connects Dinorwic to Pickle Lake. Pikangikum First Nation joined the grid in December 2018 and North Caribou Lake and Kingfisher Lake First Nation were connected in fall 2022. Bearskin Lake First Nation joined the provincial grid in July 2023.
Five more communities will be energized later this year, while the remaining seven communities are expected to join the grid in 2024.
"As we look to connect more northern and Indigenous communities to reliable, affordable and clean electricity, First Nation-led partnerships like Wataynikaneyap Power and North Caribou Lake First Nation are leading the way, and the Ontario government is proud to support," said Greg Rickford, Minister of Indigenous Affairs. "We are confident that this project will support economic growth across the North while connecting First Nations to Ontario energy grid."
Wataynikaneyap Power is majority-owned by an equal partnership of 24 First Nations, in partnership with Fortis Inc. and other private investors, to build and operate the 'line that brings light', a $1.9 billion dollar infrastructure project, a reality for remote, northern Ontario First Nations.
The 1,800-kilometre Wataynikaneyap Power Transmission Line will ultimately connect 17 remote First Nations to the Ontario power grid, removing their reliance on diesel-generated electricity and curbing their greenhouse gas emissions.