Is the supply chain prepared for construction sites to ramp back up?
Posted on August 20, 2021
By Shash Anand, VP of Product Strategy at SOTI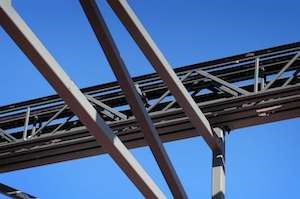 The worldwide pandemic has had an immense impact on many aspects of business, and the supply chain is no exception. The Canadian construction industry has been feeling this strain to a greater degree than most, as supply shortages have been seriously affecting availability, cost, and timely delivery of materials.
While many headlines have focused on the soaring cost of lumber in Canada, supply shortages and subsequent price hikes have been prevalent across almost all building materials. For example, the price of rebar has shot up from $500 to $900 in the first quarter of 2021, while structural steel has also nearly doubled, surging from $550 per ton to $1000.
This has all contributed to huge increases in building costs, with stats from Statistics Canada showing a 7.5% increase in construction costs in Q2 of 2021.
While these price increases are directly caused by material shortages, as lockdowns begin to ease and construction projects begin to ramp back up to full capacity, many are wondering if the construction industry will have the resources that they need.
Recent research suggests that there are at least a few obstacles still in the way.
Device downtime is killing productivity
Taking a look at SOTI's Mobilizing the Delivery Workforce: State of Mobility in Transportation and Logistics 2021 study, the transportation and logistics (T&L) industry in Canada - which is responsible for supply chains in every industry - ranked the absolute bottom of the pack in one category: number of days of productivity lost per month because of technological issues.

While the U.S., Mexico, UK, Germany, France, Sweden, and Australia all clocked in at about 1 day lost or less, Canada doubled up with two days of productivity lost per month because of tech issues.
In years past, a lack of technology has been the main issue. While these companies have been investing in technology to catch up, they are still struggling because of issues with that tech.

Among professionals in the T&L industry surveyed in SOTI's study, 70% of them listed device downtime as a primary concern in their operations and 80% said they were planning on investing in new mobile technology, such as devices, wearables and IoT sensors.
Failure to integrate tech becoming a major issue
It's clear that investing in new mobile technology isn't enough. It is imperative that T&L professionals be strategic about the technology they invest in and implement. A failure to do so runs a major risk of inadvertently creating a patchwork of technologies and devices that do not integrate, reducing any efficiencies you hoped to create and further clogging up an already congested supply chain.
Currently, this issue is already quite pervasive in the T&L industry, as 72% of professionals surveyed in SOTI's study stated that their company's systems were not integrated. As a result, 45% claimed that updated information was not being shared with their team and that staff had to manually update multiple systems.
Preventing these issues in the future
To ensure that they do not find themselves in a similar position next time an issue arises - with a lack of materials causing major delays and price increases - T&L companies must evaluate every step along their supply chain and look for any efficiencies that can be created

Speak to every employee along the line, evaluate everything, and apply the lessons learned to your future technology investments for the purposes of correcting the issues you uncover.
Specifically as it relates to device downtime, there are solutions available to businesses to alleviate the time lost when a device needs fixing. Rather than waiting for a service technician to arrive onsite to service the device, investing in remote control software will allow your IT department to deploy, manage, and service any of your organization's mobile devices remotely. Not only can this alleviate pressure on your IT team, it will also save the end user countless hours of downtime as they await a technician.
As we look into the future, it will take quite some time for the supply chains to catch up to normal levels of productivity. There is no getting around this. But if decision makers take a more strategic approach to their technology investments, they can create  stronger, more resilient and efficient supply chain; one that can get easily navigate the next major issue with fewer disruptions.
Shash Anand is the Vice-President of Product Strategy at SOTI, a leading provider of mobile and IoT management solutions.